Welcome to Sunnylea Co-operative Nursery School
Enjoy a special opportunity to have meaningful involvement in your child's first school experience.
Our aim is to create a positive foundation to your child's first educational experience. We accomplish this through the involvement of the teachers, the parents/guardians and children. The co-operative nature of the school provides both the child and parents/guardians a gentle and meaningful approach to learning. We promote an enriched and caring environment that supports our four cornerstones of learning: physical, intellectual, social and creative development. Learn more About Us.
We offer flexible schedules (full and part-time) for children 2 and 3 years of age. Learn more about the Registration process.
Our school year runs from September – June, Monday to Friday, following the TDSB school schedule. However, we are open for all professional activities (PA) days. We are not open in the summer months of July and August. Learn more about Our Program.
Contact and Find Us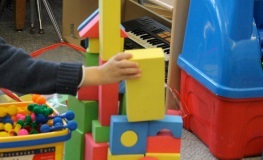 Visit the school, or contact us by email or phone.

»
Sunnylea Co-operative Nursery School is a preschool for 2 and 3 year olds located in Etobicoke, just west of Toronto, Canada