Welcome to Sunnylea Co-operative Nursery School
We are an Etobicoke preschool for 2 and 3 year olds, conveniently located in the Kingsway west of Bloor West Village. Our aim is to create a positive, nurturing environment for our preschoolers' first educational experience.
The nursery school is non-profit and in a fully-stocked classroom with a bank of windows letting in natural light and sunshine.  The school now offers a full-day program for 2 and 3 year olds.
The program features two qualified teachers, weekly themes and the opportunity for parents to participate.
Enjoy a special opportunity to have meaningful involvement in your child's first school experience.
We promote an enriched and caring environment that supports our four cornerstones of learning: physical, intellectual, social and creative development.
Here you can find more information about our co-op, teachers and community.
The links below lead to details about our programs, how to register and find us.
Here are directions to the school.
You can always contact us at info@sunnyleacoop.com for more information about these events.
Contact and Find Us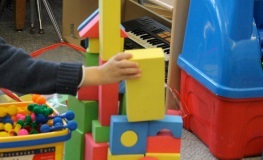 Visit the school, or contact us by email or phone.

»
Sunnylea Co-operative Nursery School is a preschool for 2 and 3 year olds located in Etobicoke, just west of Toronto, Canada