About the Co-Op
Sunnylea Co-operative Nursery School (SCNS) was founded in 1984 by a group of parents and a dedicated teacher whose children were the first students of the school.
SCNS is a non-profit co-operative nursery school licensed by the Ontario government under the Day Nurseries Act. As with any co-op corporation, SCNS is owned and managed by its members, who are the families of the children enrolled in the school each year.
At SCNS, teachers and parents work together to create a positive and gentle environment, which sets the foundation for your child's first steps towards independence.
Our Teachers
Nothing speaks louder about Sunnylea Co-Op than our teachers. Our warm, friendly and positive teachers are ECE (Early Childhood Education) qualified.
Rose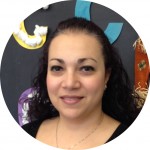 Rose has been our lead Supervisor Teacher and "biggest kid!" at Sunnylea since 2003, and brings with her 16 years of work experience as an RECE. She is a graduate of Humber College, where she also completed her ECE as she knew from a very early age that she wanted to become a teacher. In fact, she is very proud to make that special bond with each child in our 2yr, 3yr and Enrichment programs, and she loves seeing the accomplishments and progression that they make together from September to June. She chose Sunnylea Co-op, because she also values the parent participation in the program, and she has built decade long relationships with many of our families to help their children make that critical and gentle transition into school.
Rose has a young family of her own (daughters Giulia and Cristina are 7 and 5), is trained in first aid and CPR, and loves the opportunity to get to know each child that comes through our program.
Cristina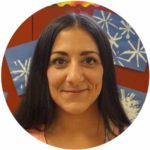 Cristina is a Registered Early Childhood Educator, graduating from George Brown College in 2012, and has been working in daycare for the past ten years, primarily with toddlers and junior preschoolers. Cristina has a passion for her career, and holds a high regard for her role as an educator and care giver. She believes in the importance of inclusivity in the classroom and does all that she can to ensure every child feels a secure sense of belonging and acceptance.
Your Involvement in the Co-Op
Parents of the children attending the school are members of the co-operative. These parents operate and manage the school by participating in the business of the school through various committees. The parents employ the teachers, equip the school, maintain the equipment, meet monthly budgets, maintain maximum memberships and work with the teachers in the classroom.
SCNS is unique among the co-operatives in that it operates without any debt and has done so for many years. It is situated in Etobicoke Collegiate Institute in one of the classrooms, which offers a built-in school setting preparing the children for junior kindergarten. SCNS is one of the only co-op classrooms offering natural light and easy access to outdoor activities.
Benefits of a Co-Op
Involvement
Parents have a unique opportunity to be directly involved in their child's first educational experience. Parents also have input into the school's operation during the time their child attends the school.
Meet Other Parents
Parents have the opportunity to meet other parents and share their experiences.
Lower Costs
Since the school is managed and operated by the parents of the children enrolled in each year, the cost of operating the school is significantly reduced. The cost of SCNS is significantly lower than a privately owned nursery school.
License Requirements
Sunnylea Co-operative Nursery School is licensed by the Ontario Ministry of Community, Family and Children's Services and adheres to the regulations set out by the Day Nurseries Act. Licensing addresses the issues of staff qualifications, programming, child/adult ratios, behavior management, nutrition, sanitary practices, space requirements, and emergency procedures.
Partners and Supporters
Shoreline Preschools Corp. Inc.
Shoreline is a not for profit, service organization dedicated to the strengthening and supporting of the Co-operative Pre-school Movement. Guided by a Board of Directors and School Representatives, drawn from volunteers from member schools.
Etobicoke Collegiate Institute
Etobicoke Collegiate Institute welcomes Sunnylea Co-Op with a wonderful new space for our classroom starting in the 2015-2016 school year this autumn.
Sunnylea Junior Public School
Sunnylea Junior Public School, a small, community-oriented public school, is our former home, and committed to our students achieving their academic, physical and social potential as a foundation for continued learning.
Programs offered by the school
Learn more about the 2- and 3-year-old programs offered at the school.