Our Programs
NEW Full-Day & Part-Time Program
In response to the updated COVID-19 guidelines and recommendations, we have made the decision to run one class for the school year.  We now offer our first ever full-day and a part-time programs, with five, three and two day options for attendance.  The classes will follow the school year from September through June,  Monday to Friday
Maximum 15 children enrolled regardless of full or part-time participation (12 of which will be 2.5 years or older as of the first day of school)
Lunch and snacks provided through Wholesome Kids Catering 
Always 2 teachers in each class
No duty days as per updated guidelines
Program Rates and Hours
Full-Time program: 9:15am – 3:00pm 
Five days per week: $1,300 per month
Three days per week:  $820 per month
Two days per week: $550 per month
Part-time hours 9:15am – 12:45pm
Five days per week: $815 per month
Three days per week: $515 per month
Two days: $350 per month
Making our classroom safe for your family
Nothing is more important than the safety of your children and our staff. Sunnylea Co-Operative Nursery School Guidelines for COVID-19 follow the most current guidelines and recommendations provided by the Ministry of Health. All child care staff are trained to implement measures to reduce the spread of COVID-19.
Safety measures at Sunnylea Co-Operative Nursery School include:
Screening all staff, children, and parents daily
No non-essential visitors will be permitted inside classroom
All children and staff will be in the same cohort daily
Focus on teaching personal hygiene routines
Cleaning and disinfecting rooms, toys, and equipment frequently
Check out our full COVID-19 updates for more detailed information on our procedures and policies.
Download our Parent Handbook (PDF – last updated January 2020) HERE.
Program Philosophy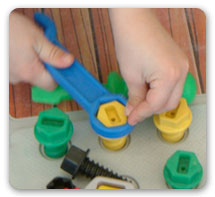 The main philosophy of the Sunnylea Cooperative Nursery School is learning and socializing through play. The playroom is well-equipped, offering numerous choices for playing/learning activities. There are many opportunities for learning within the Sunnylea program through weekly themes and routine daily activities. The children become very comfortable with the familiar daily program that includes free play (both indoors and outdoors), lunch/snack time and circle time. The school also hosts special events throughout the year, such as a Christmas Party, Halloween Party, pumpkin hunt, Easter egg hunt, and many more.
Each day's structure encourages the children to familiarize themselves with the school setting providing free play, table work to develop their fine motor skills and imagination, lunch/snack time and circle time. The weekly theme is incorporated into the daily program. We have a library in the classroom and the toys and books are changed every week in accordance with the theme. Our school also encourages a gentle approach to separation anxiety for the child and caregiver. We understand that the first school setting may be intimidating for a child and we will work with parent/caregiver to facilitate a gentle separation.
Daily Schedule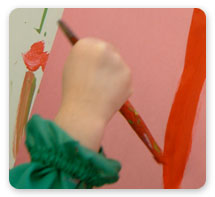 Each day begins with a welcome from the teachers at the door and free play for the children. During free play the children are encouraged to become involved in one of the areas of the playroom.  There is a drawing table for picture drawing, letter drawing, scribbling and invented spelling. Other quiet play activities include puzzles, books and games.
Tidy-up time follows free play. The children are encouraged to assist with tidying up of the toys in preparation for snack time.
During circle time the children participate in discussions regarding the theme for the week, the daily calendar and letter and number recognition.
Learn more about our teachers and what makes us special, how to register for Sunnylea Co-Op, read answers to Frequently Asked Questions, or see how to find us in Etobicoke.